With snowflakes starting to fly here in Toronto, many are starting to head to warming climates. One of those hot stops is Tucson, Arizona. Another great reason to head there is the amazing bead and gems shows that take over Tucson from late January to early February each year.
Maria has been a few times teaching and bringing back new and fun beads to work into her designs. This past winter she did not go, but at an event at a wholesale supplier,
John Bead
, Maria won a trip to Tucson for 2013.
She will once again be teaching and finding some amazing beads to work into designs for 2013.
With sponsorship from
Swarovski Elements
Maria will be teaching her
Tennis Bracelet design
at the Best Bead Show. It is shown here with demin bicones but will be offered with the new for 2013 Lt. Turquoise colour.
She is also going to teaching her Beaded Soutache design in
bracelet
and/or
necklace
length.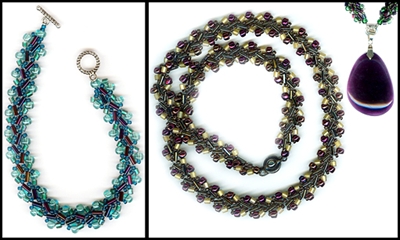 As Maria's sample maker I get to make these amazing projects to be photographed and displayed. The Tennis Bracelet is simple but elegant. The Beaded Soutache is an creative combination of beads that become a textured beadwoven band for a bracelet or necklace.
I am also looking forward to seeing what new beads Maria will bring back to the chilly north for some new designs for 2013.